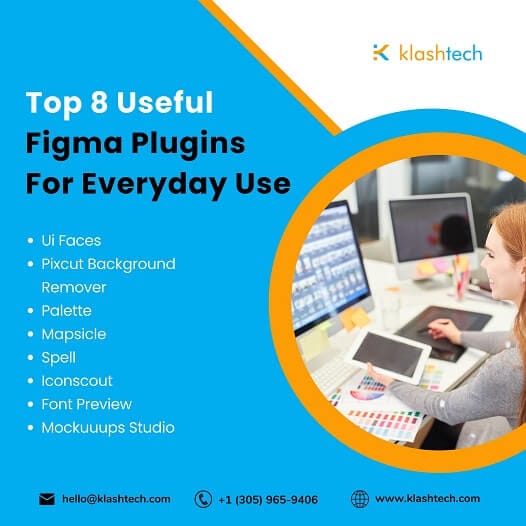 Discover the ultimate productivity boosters!
We've got you covered with the top 8 must-have plugins that will revolutionize your everyday design workflow.
Ui Faces – Generate realistic user avatars with a vast collection of faces to bring life to your designs.
Pixcut Background Remover – Effortlessly remove backgrounds from images, saving you valuable time in the editing process.
Palette – Explore and experiment with different color palettes, ensuring your designs are visually captivating and harmonious.
Mapsicle – Access interactive and customizable maps to enhance your designs and provide geographical context.
Spell – Eliminate typos and spelling errors with a smart spell-checking tool that keeps your designs error-free.
Iconscout – Discover an extensive library of icons, making it easy to find the perfect visual elements for your designs.
Font Preview – Preview and experiment with different fonts directly within Figma, ensuring the perfect typographic fit for your designs.
Mockuuups Studio – Showcase your designs in realistic mockups and present them professionally to clients and stakeholders.
Which of these plugins are you most excited to try? Share your thoughts in the comments below! Let's elevate our design game together!
Looking for a professional website to improve your online presence? Contact Klashtech to learn about our services. We offer Creative Web design, Web development, eCommerce, and digital marketing services to meet your specific needs. Call us at +1 (305) 965-9406 or send us an email at hello@klashtech.com.