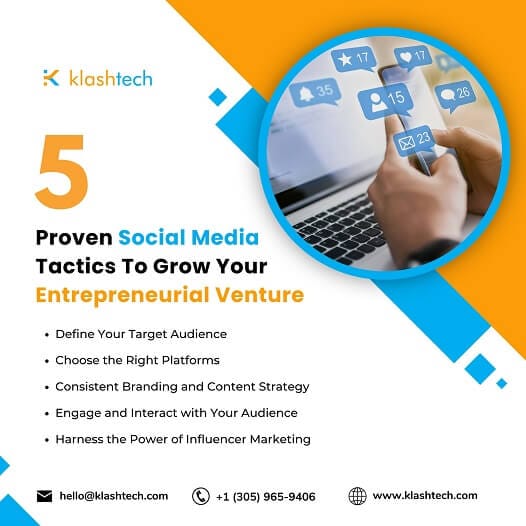 Attention, aspiring entrepreneurs! Check out these 5 proven social media tactics to take your business to the next level!
Define Your Target Audience:
Don't just cast a wide net! Identify your ideal customers and tailor your content to resonate with them. Understand their needs, preferences, and pain points to create a powerful connection.
Choose the Right Platforms:
Not all social media platforms are created equal. Research where your target audience hangs out and focus your efforts there. Whether it's Instagram for visual appeal, LinkedIn for professional networking, or TikTok for short, snappy content, find your sweet spot!
Consistent Branding and Content Strategy:
Establish a cohesive brand identity across all your social media channels. Use consistent colors, fonts, and visuals to create a memorable impression. Develop a content strategy that aligns with your brand voice, goals, and values.
Engage and Interact with Your Audience:
Social media is a two-way street! Respond to comments, DMs, and mentions promptly. Encourage conversations, ask questions, and show genuine interest in your audience's opinions. Building relationships leads to loyal customers.
Harness the Power of Influencer Marketing: Collaborate with influencers who align with your brand to amplify your reach. Leverage their credibility and engaged audience to boost your visibility and credibility. However, ensure the influencers genuinely resonate with your target audience.
Ready to supercharge your social media presence? Implement these tactics and watch your entrepreneurial venture soar to new heights!
Looking for a professional website to improve your online presence? Contact Klashtech to learn about our services. We offer Creative Web design, Web development, eCommerce, and digital marketing services to meet your specific needs. Call us at +1 (305) 965-9406 or send us an email at hello@klashtech.com.