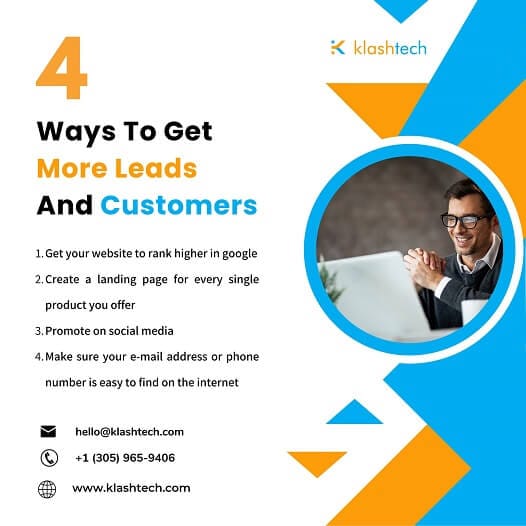 Is your business looking for effective strategies to boost customer acquisition? Here are four proven methods that can help you generate more leads and drive sales. 
Get your website to rank higher in Google
: Optimize your website for search engines by employing SEO best practices. Focus on keyword research, quality content creation, and optimizing meta tags to improve your organic search visibility.
Create a landing page for every single product you offer
: Develop dedicated landing pages that showcase the unique value and benefits of each product or service. Craft compelling copy, use eye-catching visuals, and include clear calls-to-action to capture leads and increase conversions.
Promote on social media
: Leverage the power of social media platforms to reach and engage with your target audience. Share valuable content, run targeted ads, and actively interact with your followers to build brand awareness, drive traffic, and generate leads.
 Make sure your email address or phone number is easy to find on the internet 
: Ensure that your contact information is prominently displayed on your website, social media profiles, and other online platforms. Make it convenient for potential customers to reach out and inquire about your products or services.
Implementing these strategies can significantly enhance your lead generation efforts and attract more customers to your business. Start implementing them today and watch your sales soar! 
Don't miss out on the opportunities! 
Looking for a professional website to improve your online presence? Contact Klashtech to learn about our services. We offer Creative Web design, Web development, eCommerce, and digital marketing services to meet your specific needs. Call us at +1 (305) 965-9406 or send us an email at hello@klashtech.com.