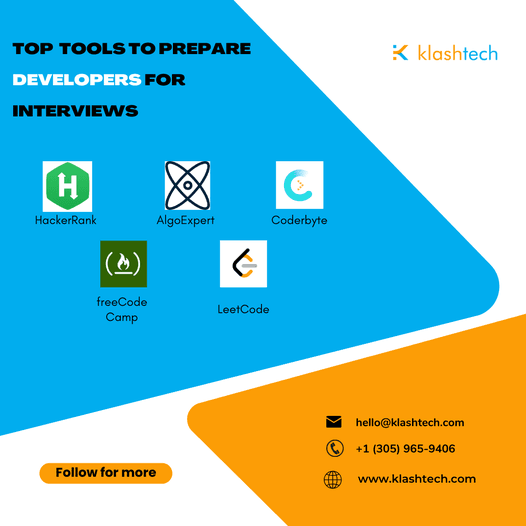 Hello Developers! Are you preparing for a job interview? Are you struggling to find the perfect resources and websites to practice for the coding interview questions?
Here are some tools you might consider to make sure you're ready for your technical interview!
HackerRank is the market-leading technical assessment and remote interview solution for hiring developers.
AlgoExpert is a one-stop destination to prepare for your coding interview.
Coderbyte is a web application that has helped over 1000000 developers prepare for technical interviews and level up their programming skills.
FreeCodeCamp helps you learn to code for free by building a portfolio of projects.
LeetCode is the best platform to help you enhance your skills, expand your knowledge and prepare for technical interviews.
Developers! Are You Ready for your job interview?
Looking for a professional website to improve your online presence? Contact Klashtech to learn about our services. We offer Creative Web design, Web development, eCommerce, and digital marketing services to meet your specific needs. Call us at +1 (305) 965-9406 or send us an email at hello@klashtech.com.