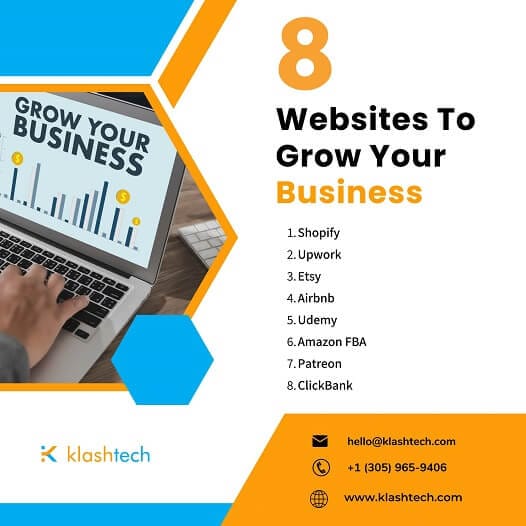 In this rapidly evolving digital age, harnessing the power of the internet is essential for business growth and success. 
Here are 8 𝗠𝘂𝘀𝘁-𝗞𝗻𝗼𝘄 𝗪𝗲𝗯𝘀𝗶𝘁𝗲𝘀 that will propel your business forward, expand your reach, and unlock new opportunities for success! 
 𝗦𝗵𝗼𝗽𝗶𝗳𝘆: Shopify is a comprehensive e-commerce platform that empowers you to set up and manage your online store effortlessly.
 𝗨𝗽𝘄𝗼𝗿𝗸: Whether you need web developers, designers, marketers, or writers, Upwork provides access to a vast pool of skilled freelancers.
 𝗘𝘁𝘀𝘆: If you have handcrafted or vintage items, Etsy offers a dedicated community and a platform to showcase your products to a global audience of discerning buyers, making it a go-to destination for artistic entrepreneurs.
 𝗔𝗶𝗿𝗯𝗻𝗯: Whether you have a spare room or property, Airbnb enables you to turn it into a profitable venture by hosting guests and providing unique experiences, unlocking a new revenue stream for your business.
 𝗨𝗱𝗲𝗺𝘆: As a business owner, Udemy allows you to upskill yourself and your team, accessing courses on marketing, leadership, technology, and more, thereby enhancing your business acumen and staying ahead in a competitive market.
𝗔𝗺𝗮𝘇𝗼𝗻 𝗙𝗕𝗔: By leveraging Amazon's vast fulfillment network, you can store your products in their warehouses, and they handle shipping, customer service, and returns.
 𝗣𝗮𝘁𝗿𝗲𝗼𝗻: If you're a content creator, artist, or creative professional, Patreon offers a way for your supporters to subscribe and access exclusive content, enabling you to focus on your craft while generating sustainable income.
 𝗖𝗹𝗶𝗰𝗸𝗕𝗮𝗻𝗸: As a product creator, you can list your digital products on ClickBank, and affiliates promote them for a commission. This mutually beneficial setup opens up vast marketing channels for your products, driving sales and expanding your business reach.
Looking for a professional website to improve your online presence? Contact Klashtech to learn about our services. We offer Creative Web design, Web development, eCommerce, and digital marketing services to meet your specific needs. Call us at +1 (305) 965-9406 or send us an email at hello@klashtech.com.