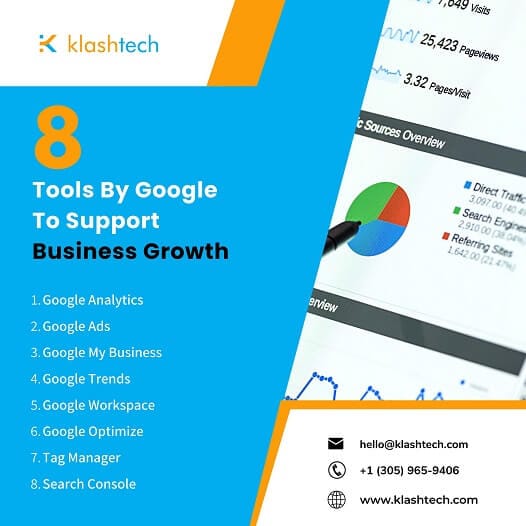 Embark on a Journey to Turbocharge Your Business Growth with Google! 
Dive into the world of tech innovation with these 8 indispensable tools from the search giant, each tailored to ignite your brand's success and propel your business into new horizons. From data-driven insights to digital marketing mastery, Google has got your back!
Google Analytics: Google Analytics tracks website traffic, user behavior, and conversions, helping you make data-driven decisions to boost your online presence and customer engagement.
Google Ads: Google Ads is your ticket to targeted online advertising, ensuring your brand reaches the right audience at the right time, ultimately driving sales and conversions.
Google My Business: Google My Business helps your business shine in local search results, making it easier for nearby customers to find and connect with you.
Google Trends: Google Trends reveals what's hot and what's not in search queries, empowering you to tailor your content and strategies to trending topics.
Google Workspace: Google Workspace offers a suite of productivity tools, from Gmail to Google Drive, enabling seamless teamwork, communication, and document management.
Google Optimize: Google Optimize lets you A/B test and experiment with website content, ensuring you're delivering the best user experience and maximizing conversions.
Google Tag Manager: Google Tag Manager simplifies the management of tracking codes and tags on your website, enhancing data accuracy and ease of use.
Google Search Console: Google Search Console provides insights into your website's performance on Google Search, helping you fix issues and improve your search ranking.
Which of these Google tools are you most excited to explore for your business growth? Share your thoughts and let's navigate the digital landscape together!
Looking for a professional website to improve your online presence? Contact Klashtech to learn about our services. We offer Creative Web design, Web development, eCommerce, and digital marketing services to meet your specific needs. Call us via Whatsapp at +1 (305) 965-9406 or send us an email at hello@klashtech.com.