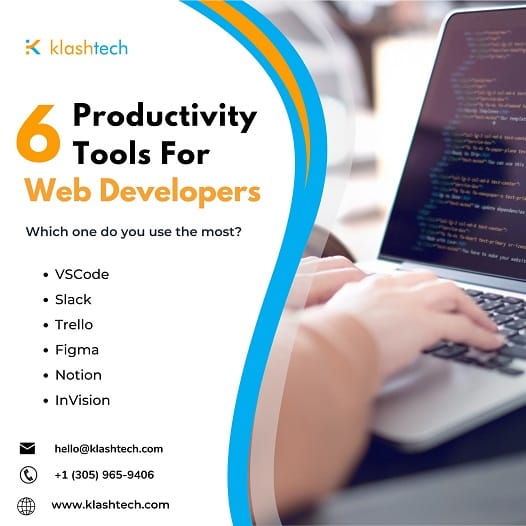 The ability to concentrate while designing, coding, or maintaining software is extremely crucial for developers. 👨🏻‍💻👩🏻‍💻
As a software developer, using the right productivity tools will help you:
Improve your performance, sharpen your time management skills, and feel more content as a result.
We'll go over the 6 best productivity tools you should try out to ensure you keep your productivity levels high and output high.
Visual Studio Code is a popular integrated development environment. Although it is not a productivity tool, its code editor allows developers to complete tasks more quickly.
A popular collaboration platform, is commonly used for file sharing and communication. However, development teams frequently use technology to increase productivity by replacing time-consuming manual procedures.
An efficient team requires an efficient tool, and Trello is one of the best project management options available. You can use Trello to create a kanban board for you and your team to track your tasks.
It allows you to design, prototype, and collaborate all in one place. It allows you to connect your favorite tools to create a customized workflow for your team.
Notion is a collaboration platform that includes kanban boards, tasks, wikis, and databases. It is an all-in-one workspace for taking notes, managing knowledge and data, and managing projects and tasks.
The all-in-one collaborative online whiteboard. With pre-built templates, organized spaces for project management, and interactive widgets and reactions, InVision's Freehand centralizes your entire workflow so that you can ensure alignment at every stage of your process.
Looking for a professional website to improve your online presence? Contact Klashtech to learn about our services. We offer Creative Web design, Web development, eCommerce, and digital marketing services to meet your specific needs. Call us at +1 (305) 965-9406 or send us an email at hello@klashtech.com.