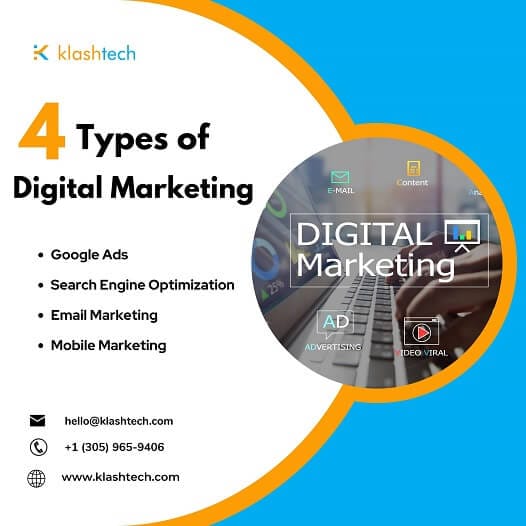 In the past decade, digital marketing has become an essential component in an organization's overall marketing strategy.
There are numerous types of digital marketing you can use to expand your audience reach.
Using a variety of digital marketing channels can assist you in developing a well-rounded strategy that will produce the best results. 👏🏻👌🏻
Here are four of the most effective types of digital marketing to help you decide which strategies will work best for your company:
An online advertising campaign is an excellent way to promote your website online. You can do it with Google Ads, an online advertising tool that allows you to attract people who are looking for products or services similar to yours.
It is the process of ranking high on search engines by using organic tactics. It is a natural way for search engine results pages to direct traffic to your website. It is not only responsible for driving traffic to your website, but it also plays a role in converting that traffic into quality leads.
It is one of the most common and necessary campaigns for a business to reach target audiences. You just need to draft a general email that conveys your message and creates your brand's image in the minds of the recipients of your emails who might be your future clients.
This type of digital marketing focuses on reaching your target audience via their smartphone or tablet. People are reached by mobile marketing through text messages, social media, websites, email, and mobile applications.
Looking for a professional website to improve your online presence? Contact Klashtech to learn about our services. We offer Creative Web design, Web development, eCommerce, and digital marketing services to meet your specific needs. Call us at +1 (305) 965-9406 or send us an email at hello@klashtech.com.