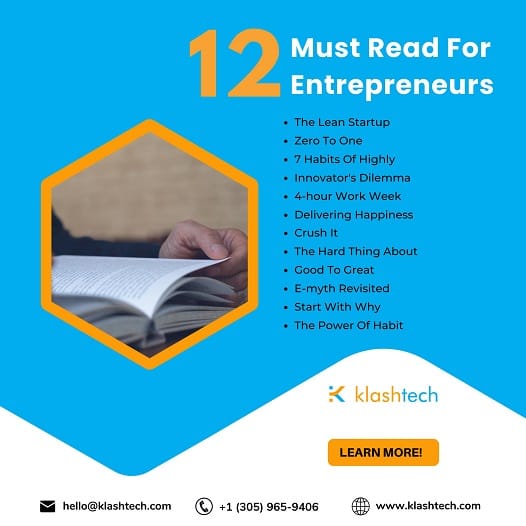 Attention all entrepreneurs seeking knowledge and inspiration! Are you ready to elevate your entrepreneurial game and unlock the secrets to success?
We have curated a list of 12 absolute must-read books that will revolutionize your mindset and propel you towards your business goals. 
Dive into "The Lean Startup" and discover how to build a thriving business by testing and iterating.
Embrace Peter Thiel's "Zero to One" and learn the art of creating something truly unique and valuable. Master Stephen R. Covey's "7 Habits of Highly Effective People" and transform your productivity and mindset. 
Explore Clayton M. Christensen's "
Innovator's Dilemma
" and gain insights into disruptive innovation, while Timothy Ferriss' "
4-hour Work Week
" challenges conventional thinking about work and lifestyle.
Delve into Tony Hsieh's "Delivering Happiness" and understand the power of exceptional customer experiences, and Gary Vaynerchuk's "Crush It" for a dose of motivation and practical advice on building your personal brand.
Get ready to tackle the tough challenges with Ben Horowitz's "
The Hard Thing About Hard Things
", and unlock the principles of greatness with Jim Collins' "Good to Great."
Gain a deeper understanding of business systems with Michael E. Gerber's "E-myth Revisited", and start your journey with Simon Sinek's "Start With Why" to find your purpose and ignite your passion.
Last but not least, Charles Duhigg's "The Power of Habit" will show you how small changes can have a profound impact on your personal and professional life.
Which of these books are you excited to dive into first? Let us know in the comments below and get ready to fuel your entrepreneurial spirit with these game-changing reads!
Looking for a professional website to improve your online presence? Contact Klashtech to learn about our services. We offer Creative Web design, Web development, eCommerce, and digital marketing services to meet your specific needs. Call us at +1 (305) 965-9406 or send us an email at hello@klashtech.com.