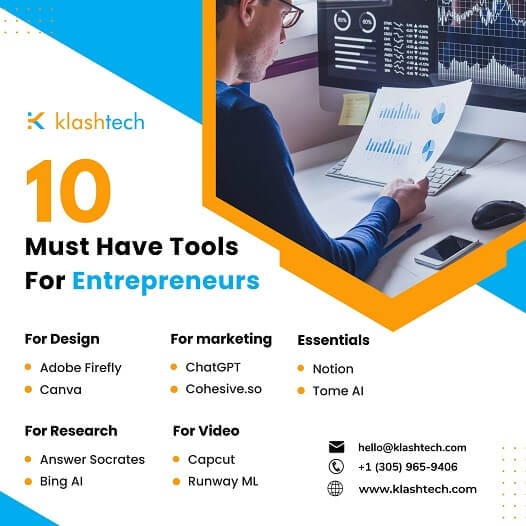 Embarking on the entrepreneurial path demands a toolkit that aligns with innovation, efficiency, and productivity.
Whether you're diving into design, marketing, research, video creation, or simply need some essentials to streamline your workflow, here are ten indispensable tools to fuel your entrepreneurial aspirations:
For Design
: Adobe Firefly – Illuminate Your Creativity:
Elevate your design game with Adobe Firefly, a beacon of creative possibilities, and Canva, the go-to platform for creating stunning visuals without the learning curve.
For Marketing
: ChatGPT – Your AI Marketing Assistant:
Supercharge your marketing strategies with ChatGPT, your AI companion for content creation and engagement, and Cohesive.so, the collaborative hub for managing marketing assets seamlessly.
For Research
: Answer Socrates – Unleash the Power of Inquiry:
Dive deep into the realms of knowledge with Answer Socrates, a tool designed to answer your questions comprehensively, and Bing AI, your intelligent ally for information discovery.
For Video
: Capcut – Edit with Precision, Create with Passion:
Craft compelling visual stories with Capcut, your video editing powerhouse, and explore the creative frontiers with Runway ML, where machine learning meets video innovation.
Essentials
: Notion – The Command Center for Your Ideas:
Keep your entrepreneurial pursuits organized with Notion, the all-in-one workspace, and leverage the analytical prowess of Tome AI to make data-driven decisions effortlessly.
Looking for a professional website to improve your online presence? Contact Klashtech to learn about our services. We offer Creative Web design, Web development, eCommerce, and digital marketing services to meet your specific needs. Call us via Whatsapp at +1 (305) 965-9406 or send us an email at hello@klashtech.com.