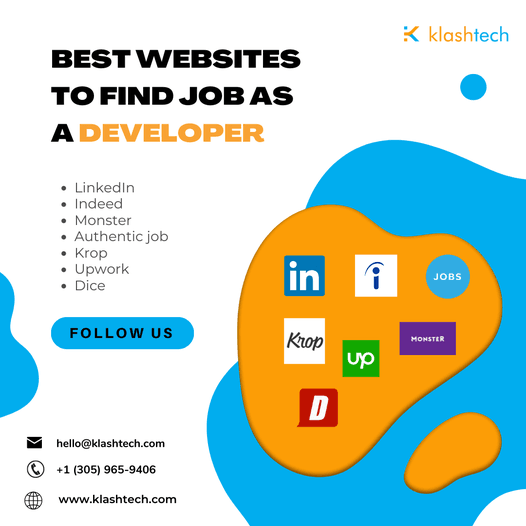 The demand for software has increased and the need for creative minds behind it has increased as well.
Fortunately, there are tons of job sites out there listing developer positions—including junior or entry level developer jobs.
Here is the list of the 7 best sites: 👇🏻👇🏻
One of the biggest benefits of searching for job opportunities on LinkedIn is that you can see if there's anyone you know in your network already working at a company. Tap that connection to learn more about the company and give your application an added boost.
Indeed is one of the largest job sites out there, with tons of postings culled from around the internet. Chances are you've probably already used Indeed in your job search—web development related or otherwise.
Monster is one of the oldest job boards out there, having been around for more than 25 years. Their website not only allows you to search through tens of thousands of popular IT jobs, work from home jobs, and healthcare technology jobs, but they also have some great resources for job seekers, including career advice and salary tools.
Authentic Jobs is a site for those who want to work on the web. Their gorgeous interface makes it simple to search full-time, part-time, remote jobs, internships, and more.
Krop is a job site for web creatives—including web developers. You can easily browse job openings by "tag", or key term.
Upwork isn't dedicated to developers, but it is dedicated to freelancers – so you'll find plenty of development talent in its database.
Dice claims to have over two million job seekers searching its site. It's easy search options allow you to establish exact criteria to guarantee that you are matched to employment that is a good fit for your career goals.
Looking for a professional website to improve your online presence? Contact Klashtech to learn about our services. We offer Creative Web design, Web development, eCommerce, and digital marketing services to meet your specific needs. Call us at +1 (305) 965-9406 or send us an email at hello@klashtech.com.