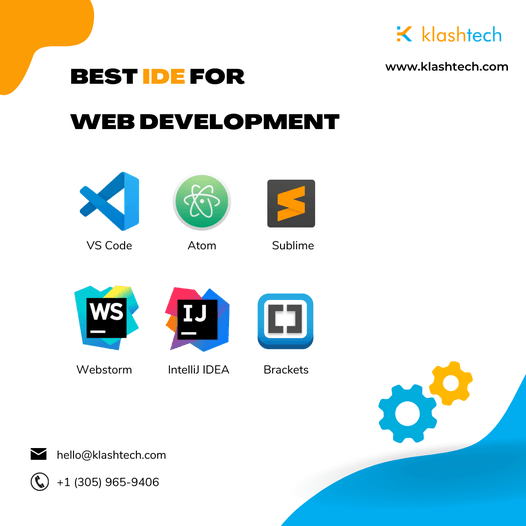 Hello developers!
Today we would like to share with you the best IDE for Web Developers!
There are 2 versions of visual code: Visual Studio Code for the Web and Visual Studio Code desktop. VS Code for the Web provides a browser-based experience for navigating files and repositories and committing lightweight code changes.
Atom, an open-source text editor that can be used as an IDE for a huge array of programming languages.It includes all the features you could ask for in a code editor, like a syntax highlighter, auto-detect for languages, automatic text completion, the possibility to use several panels and save your project to several folders.
Sublime Text editor is a sophisticated text editor which is widely used among developers. It includes wide features such as Syntax Highlight, Auto Indentation, File Type Recognition, Sidebar, Macros, Plug-in and Packages that make it easy for working with code base.
WebStorm is an integrated development environment for coding in JavaScript and its related technologies, including TypeScript, React, Vue, Angular, Node. js, HTML, and style sheets.
Enjoy Productive Java. Every aspect of IntelliJ IDEA has been designed to maximize developer productivity. Together, intelligent coding assistance and ergonomic design make development not only productive but also enjoyable.
Brackets is an open-source, modern text editor crafted for web developers and front-end developers. This app allowes coders to share their work through various platforms.
I hope this post will be helpful for you!
Looking for a professional website to improve your online presence? Contact Klashtech to learn about our services. We offer Creative Web design, Web development, eCommerce, and digital marketing services to meet your specific needs. Call us at +1 (305) 965-9406 or send us an email at hello@klashtech.com.