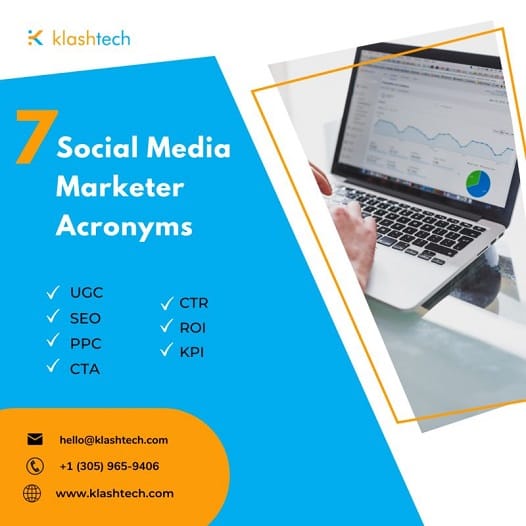 How many languages do you speak? 🤔 If you're a savvy social media marketer, you are likely to say seven.
Seven? You read that right: English, Facebook, Instagram, Tiktok, Twitter, Pinterest, and LinkedIn. Each social networking site has its language and communication style, so if you're wondering why you're not gaining more traction with your posts, it might be time to become fluent.
👇🏻 Use these acronyms to build a stronger social media marketing base for yourself. 👇🏻
User Generated Content (UGC)
A form of advertising/publicity in which an unpaid consumer creates content referencing your business or brand.
Search Engine Optimization (SEO)
General practices marketers follow when creating content and setting up their website, in order to improve search results.
A digital advertising payment method in which you pay a certain amount each time someone clicks on your ad.
Word, phrase, or image designed to provoke a specific act or response from your audience.
A formula used to determine how many people click on a specific link out of the total number of people who view a piece of marketing content (landing page, blog post, email etc.)
Return on Investment (ROI)
A formula used to calculate the profitability and efficiency of a marketing investment.
Key Perfomance Indicator (KPI)
Value used to measure the success of a campaign. The performance indicators include measurements such as engagement rate and click through rate.
Looking for a professional website to improve your online presence? Contact Klashtech to learn about our services. We offer Creative Web design, Web development, eCommerce, and digital marketing services to meet your specific needs. Call us at +1 (305) 965-9406 or send us an email at hello@klashtech.com.