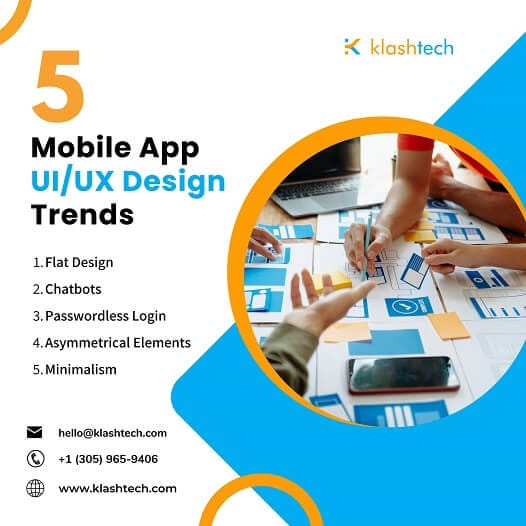 In the dynamic world of mobile app design, staying ahead of the latest trends is crucial to create innovative, user-friendly experiences that captivate audiences. Whether you're a seasoned app designer or a curious enthusiast, these 5 𝗠𝗼𝗯𝗶𝗹𝗲 𝗔𝗽𝗽 𝗨𝗜/𝗨𝗫 𝗗𝗲𝘀𝗶𝗴𝗻 𝗧𝗿𝗲𝗻𝗱𝘀 will inspire your creativity and elevate your design game!
𝗙𝗹𝗮𝘁 𝗗𝗲𝘀𝗶𝗴𝗻: By using clean, minimalistic visuals with vivid colors and crisp typography, flat design enhances user interactions, ensuring a seamless and intuitive experience. It promotes faster loading times and suits a variety of app categories, making it a timeless favorite.
𝗖𝗵𝗮𝘁𝗯𝗼𝘁𝘀: Chatbots have revolutionized user engagement and support within apps. These AI-driven virtual assistants facilitate real-time communication and provide instant solutions to users' queries.
𝗣𝗮𝘀𝘀𝘄𝗼𝗿𝗱𝗹𝗲𝘀𝘀 𝗟𝗼𝗴𝗶𝗻: Passwordless Login is gaining traction due to its enhanced security and convenience. Instead of traditional passwords, users can access apps through methods like biometrics, one-time passcodes, or email verification.
𝗔𝘀𝘆𝗺𝗺𝗲𝘁𝗿𝗶𝗰𝗮𝗹 𝗘𝗹𝗲𝗺𝗲𝗻𝘁𝘀: Asymmetrical Elements add a touch of artistic flair to app design. Breaking away from traditional grids, designers are incorporating asymmetry to create visually captivating layouts.
𝗠𝗶𝗻𝗶𝗺𝗮𝗹𝗶𝘀𝗺: By embracing white space, simple navigation, and clear calls-to-action, minimalistic app design streamlines user interactions, enhances readability, and allows users to focus on the app's core functionality.
Embrace these cutting-edge trends, and let your imagination guide you as you explore new possibilities in mobile app UI/UX design!
Looking for a professional website to improve your online presence? Contact Klashtech to learn about our services. We offer Creative Web design, Web development, eCommerce, and digital marketing services to meet your specific needs. Call us at +1 (305) 965-9406 or send us an email at hello@klashtech.com.