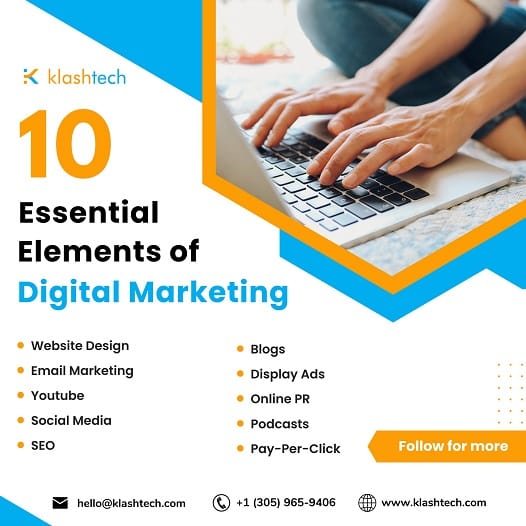 If you're looking to enhance your digital marketing strategy, then understanding the 10 essential elements of digital marketing is crucial. 💯
Here are the 10 essential elements of digital marketing that you should know about: 👇🏻
🔸Web design is what creates the overall look and feel when you're using a website. It's the process of planning and building the elements of your website. You should take a look at Strikingly, they are offering great hosting services. 
🔹Email marketing involves sending targeted messages to a list of subscribers. This can help nurture leads and increase customer retention.
🔸YouTube marketing is a strategy that involves creating videos and uploading them on YouTube to promote a brand or a product and gain more exposure.
🔹Social media marketing involves promoting your brand and products on social media platforms like Facebook, Instagram, Twitter, and LinkedIn.
🔸Search Engine Optimization (SEO): SEO is a technique used to optimize your website to rank higher in search engine results pages.
🔹Blog Marketing is a content marketing strategy. The marketing strategy uses blogs to address potential customers directly and individually, thus achieving customer loyalty for their own brand.
🔸Display Ads. A type of online advertisement that combines text, images, and a URL that links to a website where a customer can learn more about or buy products.
🔹Online PR, also known as digital PR, is a link-building tactic that involves creating a story or piece of creative content, and distributing it to target media.
🔸Podcast marketing is a strategy that implies promoting and selling your product or service through audio content.
🔹PPC or pay-per-click is a type of internet marketing which involves advertisers paying a fee each time one of their ads is clicked.
Looking for a professional website to improve your online presence? Contact Klashtech to learn about our services. We offer Creative Web design, Web development, eCommerce, and digital marketing services to meet your specific needs. Call us at +1 (305) 965-9406 or send us an email at hello@klashtech.com.