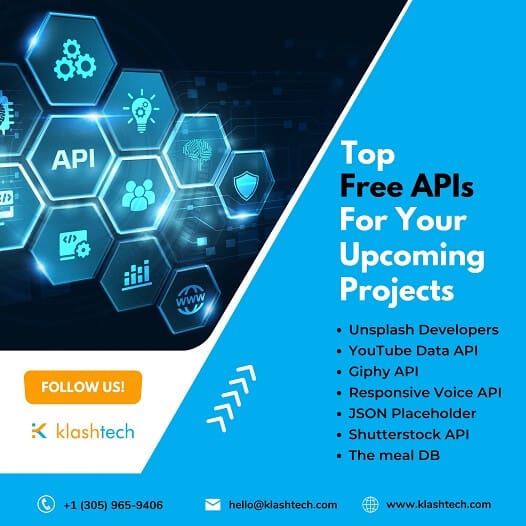 If you're working on an upcoming project and need to integrate certain functionalities or services, then using an API (Application Programming Interface) can be an efficient solution.
APIs are sets of programming instructions that allow applications to communicate with each other. Luckily, there are several free APIs available that you can use in your upcoming projects.
Here are some of the top free APIs that you can consider:
Unsplash Developers: You can browse the world's best collection of free, accessible, high-quality pictures on Unsplash. Simply include Unsplash into your project by using this API.
YouTube Data API
: You can integrate YouTube features into your application to view videos and manage playlists.
Giphy API
: This Giphy API is a fantastic API for accessing clips, GIFS, emojis, stickers, and even animated text for your projects. It is a must-check!
Responsive Voice API
: This is the most well-liked HTML text-to-speech API that makes it simple to quickly add voice functionality to your website in 51 different languages.
JSON Placeholder
: This API works best for obtaining data when writing code examples for Stack Overflow, making a README on GitHub, or even testing things locally.
Shutterstock API
: The shutterstock API offers free access to more than 460 million pictures, and videos. It can assist you in expressing your creativity.
The Meal DB: The Meal DB API is an excellent resource for finding recipes and meal information. There are 574 ingredients, and more than 285 recipes.
Looking for a professional website to improve your online presence? Contact Klashtech to learn about our services. We offer Creative Web design, Web development, eCommerce, and digital marketing services to meet your specific needs. Call us at +1 (305) 965-9406 or send us an email at hello@klashtech.com.