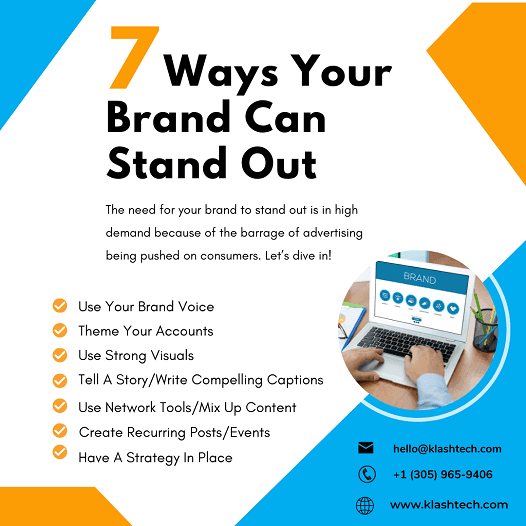 With so many people and businesses on social media these days, it can be difficult to find ways to cut through the clutter. But, on the other hand, sometimes the answers are right in front of us – and no, you don't always need a viral hit to stand out.
This post will go over seven simple ways to make your business stand out on social media that you may have missed.
Isn't it simple? Although developing your brand voice can be time-consuming, it will help you stand out from the crowd and attract the right followers to your social channels.
Theming your accounts is an excellent way to increase your visibility, particularly on Instagram. Theming is essentially the use of a consistent color palette or approach, as well as the use of the same filters and the like, to create a distinct look and feel.
Using strong visuals is a simple way to help your business stand out on social media. Keep your images and videos as clear and high-quality as possible.
🔥 Tell A Story/Write Compelling Captions
Let's put the elements we just discussed – strong visuals, a theme, and your brand voice – together to tell your brand story. And adding captions to your visuals gives more context to your brand story.
🔥 Use Network Tools/Mix Up Content
Another way to help your company stand out on social media is to use network tools to boost your presence.
🔥 Create Recurring Posts/Events
Creating a recurring post or event is a surefire way to help your brand or business stand out on social media. Perhaps you could host a weekly Q&A livestream on your preferred social media network, share a weekly tip, or create a "best of the week" slideshow.
🔥 Have A Strategy In Place
Finally, and most importantly, having a strategy in place will help your business stand out on social media. A strategy, on the other hand, will give you direction for content and free up time to be creative.
Looking for a professional website to improve your online presence? Contact Klashtech to learn about our services. We offer Creative Web design, Web development, eCommerce, and digital marketing services to meet your specific needs. Call us at +1 (305) 965-9406 or send us an email at hello@klashtech.com.