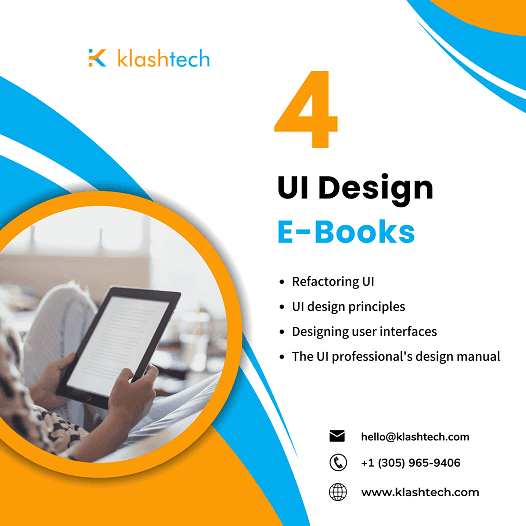 Dive into the Depths of UI Design with These 4 Essential E-Books. Each one is a goldmine of wisdom and know-how, unveiling the secrets of crafting remarkable User Interfaces. Whether you're honing your design principles or aiming for true UI mastery, these books are your compass on the journey to UI excellence!
Refactoring UI: This book is a practical guide that helps designers improve the visual design of their user interfaces. It provides actionable advice and best practices for making UIs more visually appealing and user-friendly.
UI Design Principles: Focusing on fundamental principles, this e-book lays the groundwork for effective UI design. It covers concepts like usability, consistency, and user-centered design, offering a solid foundation for creating intuitive interfaces.
Designing User Interfaces: This comprehensive guide delves into the entire process of UI design, from concept to execution. It covers everything from user research to prototyping and provides insights into creating interfaces that are both functional and aesthetically pleasing.
The UI Professional's Design Manual
: Geared towards experienced designers, this manual dives into advanced topics in UI design. It explores cutting-edge techniques, design patterns, and strategies for creating sophisticated and high-quality user interfaces.
These e-books collectively equip UI designers with the knowledge and skills needed to create visually appealing, user-friendly, and effective user interfaces.
Looking for a professional website to improve your online presence? Contact Klashtech to learn about our services. We offer Creative Web design, Web development, eCommerce, and digital marketing services to meet your specific needs. Call us via Whatsapp at +1 (305) 965-9406 or send us an email at hello@klashtech.com.