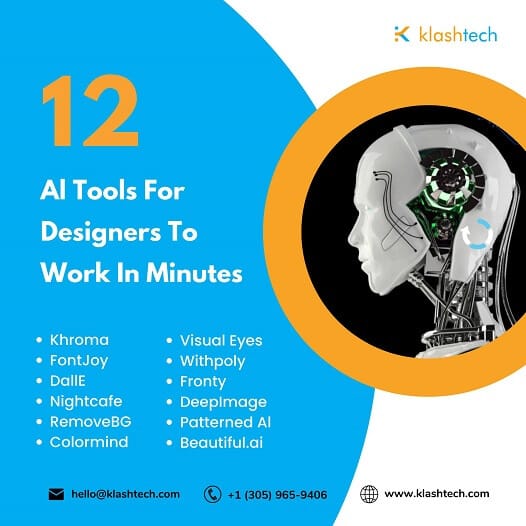 Looking to level up your design game? Check out these incredible AI tools that will supercharge your creativity and productivity.
Khroma: Find the perfect color palette for your designs effortlessly with Khroma, that understands your preferences and suggests harmonious color combinations.
FontJoy: This AI tool helps you pair fonts seamlessly, ensuring a perfect match that enhances your design's visual appeal.
DallE: An AI-powered model that generates unique and creative images based on textual prompts.
Nightcafe: Enhance your photos with Nightcafe, an AI-powered tool that transforms daytime images into stunning nighttime scenes.
RemoveBG: RemoveBG utilizes AI technology to automatically remove backgrounds from images, allowing you to create clean and professional designs effortlessly.
Colormind: Colormind is an AI tool that generates beautiful color schemes with just a few clicks.
Visual Eyes: This AI tool helps identify areas for improvement, ensuring your design is visually engaging and user-friendly.
Withpoly: This AI-powered tool simplifies the process of creating 3D models, making it accessible and efficient for designers of all levels.
Fronty: This AI tool converts your design files into clean and optimized HTML and CSS, saving you valuable time and effort in development.
DeepImage
: This AI tool offers advanced image manipulation capabilities, allowing you to enhance and transform your visuals with ease.
Patterned
AI: This AI tool generates mesmerizing designs that can be used in various creative projects.
Beautiful.ai
: This AI-powered tool simplifies the process of creating visually captivating slides.
Explore these AI tools and witness the transformative power they bring to your design process.
Looking for a professional website to improve your online presence? Contact Klashtech to learn about our services. We offer Creative Web design, Web development, eCommerce, and digital marketing services to meet your specific needs. Call us at +1 (305) 965-9406 or send us an email at hello@klashtech.com.