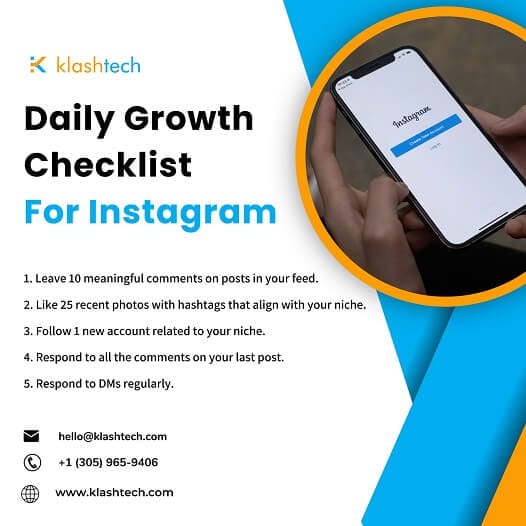 Instagram is a fantastic platform for everyone, but mastering its algorithm can be quite the challenge. It's not uncommon to feel like your efforts aren't paying off, and that you need to rethink your content strategy.
Luckily, there are ways to grow your account organically. While there's no one-size-fits-all answer, there are a few key things that can help you boost your growth. To ensure you're doing everything in your power to succeed, we've put together a handy checklist for you to follow. 🧐
👉🏻 Take some time to leave 10 meaningful comments on posts in your feed. Engage with other users and build genuine connections. 
👉🏻 Like 25 recent photos that include hashtags that align with your niche. This will help you connect with users who share your interests. 
👉🏻 Follow 1 new account related to your niche. Expand your network and learn from others in your field. 
👉🏻 Don't forget to respond to all the comments on your last post. This shows your followers that you value their input and are engaged with your community. 
👉🏻 Finally, make sure to respond to DMs regularly. Your followers want to connect with you, so take the time to engage with them and build lasting relationships. 
By following these simple steps every day, you'll be well on your way to growing your Instagram presence and connecting with your audience in a meaningful way.
Looking for a professional website to improve your online presence? Contact Klashtech to learn about our services. We offer Creative Web design, Web development, eCommerce, and digital marketing services to meet your specific needs. Call us at +1 (305) 965-9406 or send us an email at hello@klashtech.com.