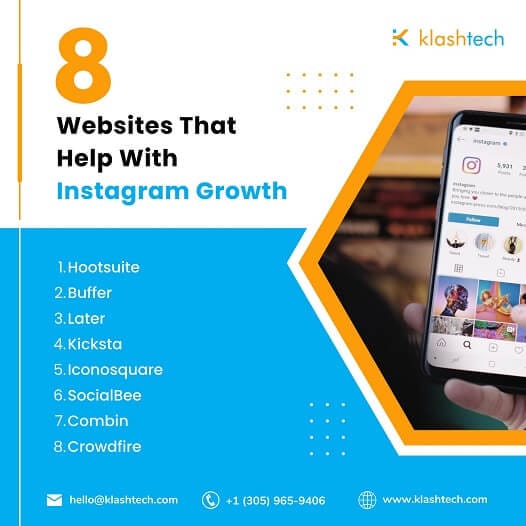 Eager to Elevate Your Instagram Presence?
Delve into the world of Instagram growth with these 8 dynamic websites, each thoughtfully designed to amplify your online impact and propel your social media game to extraordinary heights. From mastering content strategy to boosting audience engagement, these tools have everything you need to conquer Instagram!
Hootsuite: Plan and publish your content, monitor performance, and engage with your audience seamlessly from one platform.
Buffer: Buffer is your go-to for effortless content scheduling and analytics. Maximize your reach by automating posts and tracking engagement to refine your strategy.
Later: Schedule Instagram posts, plan stories, and organize your visual content for a cohesive and stunning feed.
Kicksta: It automates the engagement process, helping you gain real followers interested in your content.
Iconosquare: Gain insights into your audience, track performance, and optimize your content strategy for growth.
SocialBee: Categorize and schedule posts, ensuring consistent and engaging content across your profiles.
Combin: It offers powerful tools for finding and engaging with your target audience, increasing your follower count authentically.
Crowdfire: It simplifies content curation, scheduling, and engagement, helping you grow and manage your Instagram presence efficiently.
Which of these fantastic Instagram growth tools are you eager to try? Share your thoughts and let's turn your Instagram into a powerhouse!
Looking for a professional website to improve your online presence? Contact Klashtech to learn about our services. We offer Creative Web design, Web development, eCommerce, and digital marketing services to meet your specific needs. Call us via Whatsapp at +1 (305) 965-9406 or send us an email at hello@klashtech.com.