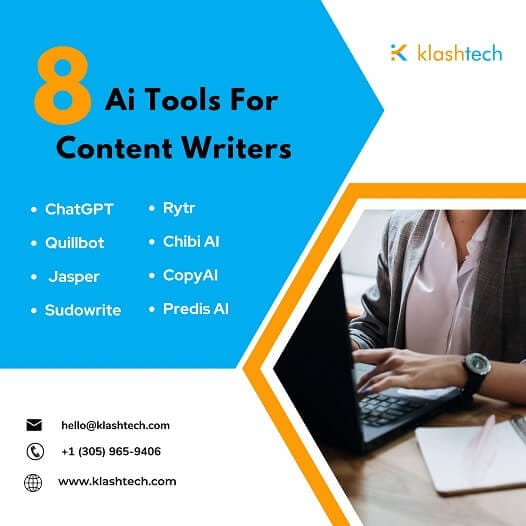 A uniquely crafted piece of content will definitely stop the scroll. 👀⌨️
Here is a list of some of the best artificial intelligence (AI) tools for content writing, paraphrasing, grammar, and more! 👇🏻👇🏻
ChatGPT is a robust language generation model that can help with a wide range of writing tasks.
QuillBot is one of the most comprehensive writing applications available. If you're a student looking for an AI essay writer or need to research and write citations, this tool is a must-have.
Jasper formerly known as Jarvis, is a leader in AI writing software tools. Jasper obtained writing software such as Headlime and Shortly AI.
Sudowrite is a writing tool that uses artificial intelligence to help you generate content, rewrite existing content into something new, elaborate on something when you need more words, and brainstorm ideas.
Rytr is a content writing platform that uses artificial intelligence to create content for you. Rytr's algorithms are trained on historical data to produce unique and compelling articles with the appropriate tone and style.
Chibi AI is an AI writing tool designed for writers who want to focus on their work but need a little help when they get stuck. Chibi includes useful writing tools like rewriting, shortening, expanding etc.
CopyAI's numerous automated creativity tools aid in the elimination of writer's block. It also provides a variety of AI-created templates to assist you in getting started on your project.
Predis.ai is an AI-powered social media content generation tool. Predis.ai can generate social media posts, videos, captions, and hashtags in seconds.
Looking for a professional website to improve your online presence? Contact Klashtech to learn about our services. We offer Creative Web design, Web development, eCommerce, and digital marketing services to meet your specific needs. Call us at +1 (305) 965-9406 or send us an email at hello@klashtech.com.