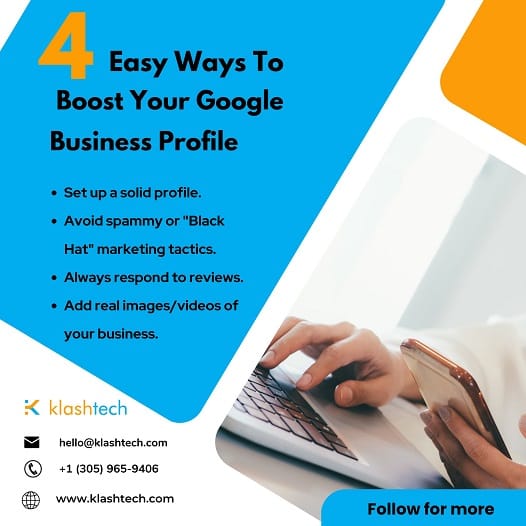 Google is your window to the world. 🌎
Boost your Google Business Profile with these 4 easy tips to improve your organic visibility.
It has a whopping 2.3 billion monthly users, making it an essential tool for business owners to market their products and services. 😲
If you want to get more leads and customers, boosting your Google Business Profile is a must. Here are 4 easy ways that you can do it!
🔸First and foremost, it is critical to understand that a Google Business Profile is distinct from a Google My Business account. The latter is employed in order to gain access to and optimize the former. That is, in order to perform the optimizations outlined in this guide, you must first create a Google My Business account and then request that Google connect it to your Google Business Profile.
🔹Google is certainly smart enough today to detect attempts to game the system by, for example, automating content, creating doorway pages, and keyword stuffing. The same holds true for GBP. Because this is Google's own tool, why would the world's largest and most powerful search engine let you get away with spammy tactics like paying people to leave positive reviews?
🔸One of the most effective ways to increase your GBP is through reviews. They are free but significantly increase your company's visibility to organic searchers. Respond to negative reviews as well! Always cater to your customers, and if something goes wrong, be understanding, address it right away, and make sure everyone leaves happy.
🔹Uploading real photos/videos to your Business Profile through your Google My Business account dashboard is important for four reasons:
Ensure quality.
Be active.
Get images in results.
Increase engagement.
Looking for a professional website to improve your online presence? Contact Klashtech to learn about our services. We offer Creative Web design, Web development, eCommerce, and digital marketing services to meet your specific needs. Call us at +1 (305) 965-9406 or send us an email at hello@klashtech.com.